← Back
Commuter 25 Plus $515.00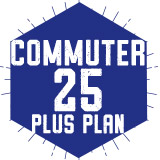 25 Block Meal Swipes per semester
$300 Dining Dollars per semester
Five Guest Meal Swipes
This plan provides you with:
25 Block Meal Swipes per semester
$300 Dining Dollars per semester
Five Guest Meal Swipes
One block meal per meal, per meal period at Rob's Café, Union Market, Zee's Convenience Stores, and other participating locations.
Ready to purchase? Visit uakron.edu to purchase a meal plan.
Commuter 25 Plus Plan Student Characteristics:
Lighter Eater
On campus irregularly
Meal Plans may be purchased online after July 1, 2019 or by completing a Fall 2019/Spring 2020 Dining Plan Application and contract conditions.